Fungal Infections Affecting Toenails
Tuesday, 05 September 2023 00:00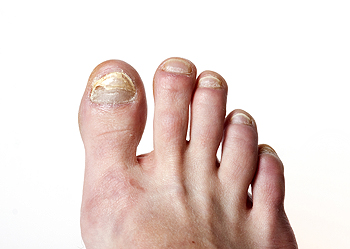 Fungal nails, also known as onychomycosis, result from a fungal infection. This condition often leads to nail thickening and discoloration, along with the buildup of dead skin beneath the nail plate. Sometimes, the nail's shape can also change. Among fungal infections affecting the body, nail infections are particularly challenging to prevent and treat. Onychomycosis arises due to an overgrowth of fungi that thrive in warm, moist environments, such as locker rooms, public showers, and swimming pool areas. Typically, fungal growth begins at the nail's end and gradually spreads beneath it. Occasionally, chalky white patches may form on the nail's surface. As the infection progresses, yellowish or brownish discoloration becomes evident. The fungus can also cause damage to the nail's base, resulting in a thickening and altered shape. Treatment for fungal nail infections involves conservative, laser, and surgical approaches. Conservative treatment consists of using a topical medication applied like nail polish. Reinfection is a risk, and antifungal spray can be used inside shoes to treat any residual infection. Laser treatment for fungal nails is non-invasive. Surgical intervention is considered only if other treatments are not effective. If you have a fungal nail infection, it is strongly suggested that you make an appointment with a podiatrist to have your nails assessed and treatment administered that is right for you.
For more information about treatment, contact one of our podiatrists of Florida Foot & Ankle Group, P.A.. Our doctors can provide the care you need to keep you pain-free and on your feet.
Toenail Fungus Treatment
Toenail fungus is a condition that affects many people and can be especially hard to get rid of. Fortunately, there are several methods to go about treating and avoiding it.
Antifungals & Deterrence
Oral antifungal medicine has been shown to be effective in many cases. It is important to consult with a podiatrist to determine the proper regiment for you, or potentially explore other options.
Applying foot powder on the feet and shoes helps keep the feet free of moisture and sweat.
Sandals or open toed shoes – Wearing these will allow air movement and help keep feet dry. They also expose your feet to light, which fungus cannot tolerate. Socks with moisture wicking material also help as well.
If you have any questions please feel free to contact one of our offices located in Apopka, Debary, Lake Mary, Orlando, and Oviedo, FL . We offer the newest diagnostic tools and technology to treat your foot and ankle needs.
Read more about Treating Toenail Fungus